Subaru Outback 2017
1:55 AM
Subaru Outback 2017
- An all-new version of Subaru's 'original crossover' – not that you'd spot that. It looks like a slightly stockier version of the old car, but Subaru insists that's exactly the point. Buyers were polled for what they like and don't like about their estate-only, all-wheel drive tough-mobile, and said they'd like lower running costs, improved refinement, but didn't give a monkeys about a fresh suit.
The spec is refreshingly simple too: one petrol and one diesel engine, a manual or CVT gearbox, and two grades of trim. The whole car just oozes no-nonsense simplicity.
DRIVING
With 200mm of ground clearance and a torque-sapping CVT mated to the petrol whether you like it or not, the Outback's no driver's car. For this reason, we'd strongly advise you stick to the diesel instead – a unique flat-four boxer turbo design at that. And although it sounds like a WRX-lite, the flat-four petrol 2.5-litre is nothing of the sort, disappointment further compounded by its standard CVT gearbox.
What it does do is conquer all surfaces with consummate ease. Ignore the marketing spiel about mountaineering with surfboards in the boot – the fact is that on gnarled UK roads, often covered with mud, grit, leaves, or just indeterminate drizzle, the Outback just gets on with it. Full-time all-wheel drive eliminates wheelspin, and that long-travel suspension, together with squidgy tyres, means the ride's properly soothing too. An Audi A6 Allroad is more 'sporty', but it lacks the Outback's bulletproof toughness.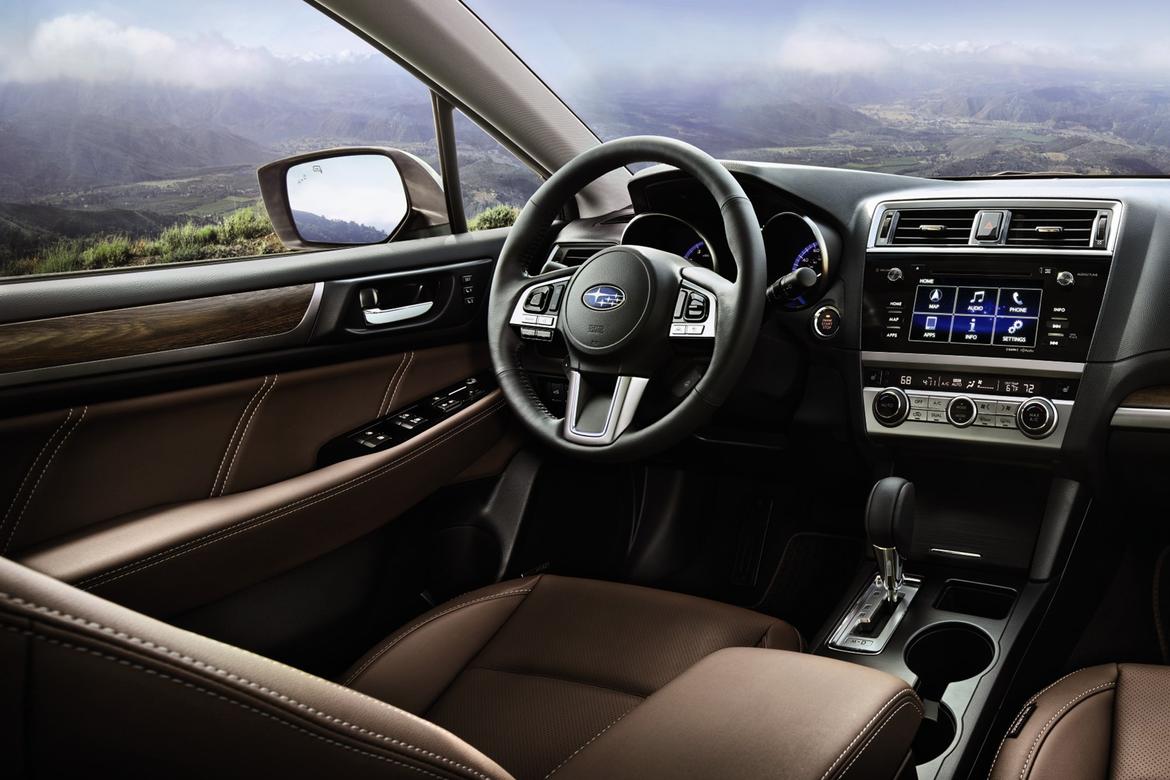 ON THE INSIDE
Interior design has never been a Subaru strong suit, and despite a rethink to squeeze in a surprisingly responsive 7.0-inch touchscreen interface, the Outback still isn't an inviting proposition inside, with shiny plastic and messy, garish typefaces galore.
That said, it's less of a bugbear than in other Scoobies, since the Outback is designed to be abused and dirtied, and this hard-wearing cabin feels like it'll absorb a lifetime of hard knocks and muddy scuffs. There's stacks of room in both rows of supremely comfortable seats too, but at 512 litres, the boot's not as big as you'd think. You get more room in the rear of the new Ford Mondeo Estate, if not the overall versatility.
OWNING
Predictably, the majority of UK sales will be swallowed by the 2.0-litre 148bhp diesel version, which can be specced with a manual gearbox and return a modest claim of 50mpg (CO₂ of 145g/km is no great shakes for 150bhp either). Rivals such as Skoda's all-wheel drive Octavia Scout promise to be cheaper to run, if not as happy off-piste. Top-spec trim is an extra £3k over the £27,995 base cost, and adds keyless go, an electric tailgate and leather seats to an already generous kit list. CVT models get the useful 'Eyesight' autonomous braking aid too.